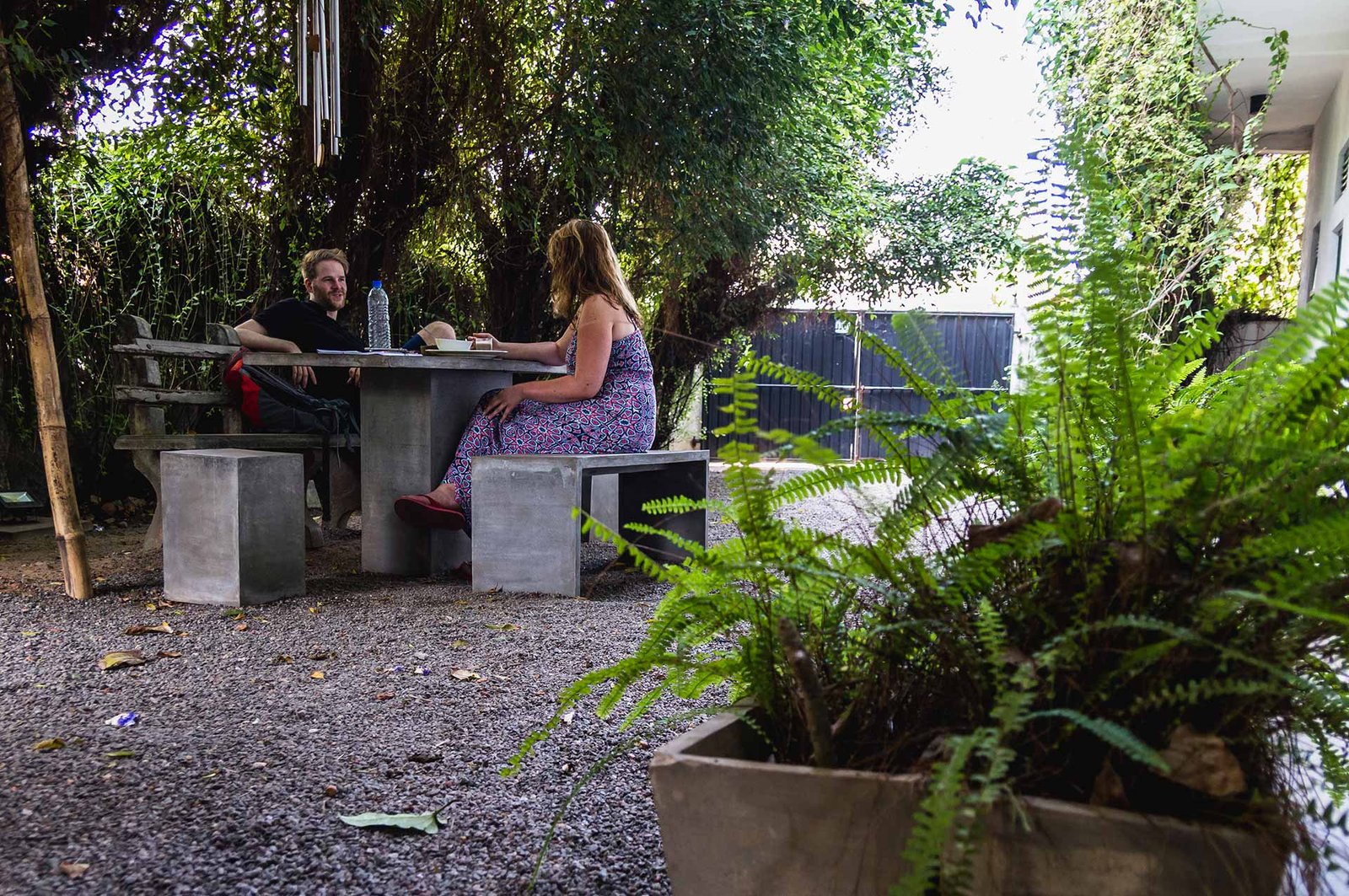 ---
Book Colombo Beach Hostel to Experience Sun, Sea, and the City
Colombo Beach Hostel, located on De Saram Road, Mount Lavinia is undoubtedly a backpacker's perfect choice to start and end their exploration of Sri Lanka. Located in close proximity to Beach Restaurants & Bars, Spas , Supermarkets, Bakeries, Coffee shops, Banks & easy access to Colombo's best beach ……….The Mt. Lavinia Beach, which is also reputed for its infamous bars and beach parties along the coastline.
CBH offers you unparalleled peace and tranquility, and is a great place to meet new friends and get inspired. Our facility has a common room, for preparation of food etc. Also we have a great Roof top garden for you to relax and unwind with friends.
CBH is also within walking distance from the Main Galle Road, the Mt. Lavinia Railway Station, and most importantly the Beach !
Sub-urban Experience for Nomadic Souls in Colombo
Tucked away in a residential beach-side road in Mount Lavinia, Colombo Beach Hostel offers backpackers a unique blend of a bustling city charmed by seaside tranquillity. Amongst a myriad of hostels in Colombo travellers will be treated to the establishment's aesthetics for free-spirited individuals who seek a central hub for public transport, dining, and entertainment.
The Colombo Beach Hostel can be reached by a network on public transport options directly from the Bandaranaike International Airport. Supermarkets, eateries, banks, spas, and nightlife are in no shortage and can be reached within a comfortable walk from the hostel.
For cheap accommodation Colombo, this hostel provides great value with complimentary Wi-Fi, filtered water, linen, and security lockers; it is also the ideal platform to begin and conclude a backpacking journey around Sri Lanka. With the train station located within a fifteen-minute walk, travellers could tour idyllic destinations like Mirissa or the lively Galle Fort with ease.
Read More
For Nomads who seek individuality, open areas, and space to recharge, the Colombo Beach Hostel provides eclectically designed homely spaces. Each room in the hostel is designed to complement the adventurous spirit of travellers who yearn to explore the unknown.
As a solo traveller or groups, backpacking can give you first-hand experiences of the country as you immerse yourself into a diverse social setting. As you absorb the culture, traditions, and live like a local, you feed your soul with once-in-a-lifetime experiences.
Mount Lavinia provides innumerable options for cheap hotels Colombo and things to do that allow them to mingle with locals. From the budget-friendly street food to the open house bodegas, the choices are plenty. Experience the street food culture at hospitable establishments and pick up popular Sinhala vernacular as you trail through the country.
The beachside nightlife will allow travellers to experience what it is like being a local in the area as well as forge friendship with like-minded travellers. For many, the common challenge lies in privacy; however, Colombo city hostel does not compromise on this with each of its rooms.
For travellers who wish to prepare meals, the common room is well-equipped and is available for use. Backpackers can even convene on the rooftop to exchange stories of their explorations and escapades around the island. Enjoy a stroll to the beach which is located within a 5-minute walk from the hostel and watch resplendent sunsets.
Whether you are looking for tranquillity, creative space to energise or look for inspiration, the Colombo city hostel is an ideal choice for budget-friendly vacations to satiate your wandering soul.
Begin your journey by clicking through to the Hostel's website and apprise yourself of more information here. The team of professionals can also be contacted via e-mail (info@nomadichostels.com) or through social media.
The chain of Nomadic Hostels is for those whose spirits run free with adventure. They are handpicked in key locations around the country, and its base in Colombo is renowned as the best hostel in Colombo. To enjoy the paths less travelled through the Nomad's eyes, book your Sri Lankan experience with the Colombo Beach Hostel.
Show Less
Bus - Cost approx Rs 200 per person

Bus Directions - Take bus (#187) from airport to Colombo Fort, from Colombo Fort get the Mount lavinia bus (route 100/101- GALLE ROAD)- once in bus, please ask to be dropped off at HOTEL ROAD JUNCTION, from here its a 5 minute walk..... on HOTEL ROAD the 2nd road to your right is BARNES AVENUE... come to the very end and we are right opposite the road.


IF your mobile device has Uber or PickMe(Taxi apps) you could get a pick up arranged for apx SLR 2200/=(by using these apps). We suggest you install the app as its worth it while being in Sri Lanka.

Directions - we are on Google maps...., come to HOTEL ROAD, Mount Lavinia, on this the second road to your right is BARNES AVENUE, come to the very end and you fall on to DE SARAM ROAD and we are just opposite it
This is with a trusted partner at the airport. Cost SL Rs 3000 for a car (up to 3 people) and SL Rs 3600 for a van (up to 6 people), but you need to give us a heads up, if more than 3 people as they would need a van, and would need time to arrange)- At airport lobby, the 3rd Counter on your right is "ayubowan", please go there and mention hostel name, and they will arrange drop for the price mentioned (excluding Highway charges)

Directions - Generally the taxi guy knows directions...., but if not come to HOTEL ROAD, Mount Lavinia, on this the second road to your right is BARNES AVENUE, come to the very end and you fall on to DE SARAM ROAD and we are just opposite it.